How Weird Street Faire 2023
Event description
The 23rd Annual How Weird Street Faire
"Close Encounters Of The Weird Kind"
Saturday, October 15, 2022
Featuring an unforgettable mix of art, music, and dancing with
● Nine stages of world-class electronic music, representing diverse genres and styles
● Art Alley, showcasing extreme creativity
● Marketplace, featuring unique goods
● An eclectic menu of food and drink offerings from food trucks and local restaurants, and more.
Noon-8 p.m. | All Ages | Wheelchair Accessible. Centered at Howard and 2nd Streets, San Francisco, CA, Earth.
Tickets are $35 advance / $40 day of show. Children 12 and under do not need tickets but must be accompanied by a paying adult.
On October 15th, the streets of the Faire will once again be filled with colorful costumes and dancing. This year's theme is "Close Encounters Of The Weird Kind."
How Weird Street Faire's nine stages will feature world-class electronic music, played on some of the world's best sound systems. Cutting-edge artists from across the Bay Area and the world will provide an unforgettable dance experience. For 2022, there will be music stages by Bootie Mashup & Heavy Petting Zoo, Opulent Temple, Opel & Opulent Chill, Muti Music & Northern Nights, Symbiosis & Raindance, Plur Alliance & So Stoked, Solid Gold Jacuzzi, Red Marines & Secret Psychedelica, Mountain Lion Hi Fi, and Beats and Rhymes. Additional artists will be announced on our social media closer to the date of the Faire.
Art Alley will showcase the visual arts, with live and exhibited artwork, interactive pieces, and artists selling their works. Patrons can stroll the legendary open air gallery, and be inspired by the abundance of creativity in an expanded space. Apply to sell your art at the Faire, at www.howweird.org. Spots are limited.
How Weird Marketplace will be filled with vendors from around the world selling unique goods. From clothing to art, jewelry, and accessories, Marketplace offers a unique shopping experience. Apply to vend at the Faire, at www.howweird.org. Spots are limited.
Food trucks and local restaurants will provide a wide variety of food and drinks for sale.
A world-renowned experience, How Weird Street Faire has been named one of the 10 Best Cultural Festivals in America by USA Today in 2019, and awarded SF Weekly's Best of SF Award for "street fair that continues to improve and blow our minds" in 2018. S.F. Chronicle has declared: "How Weird festival celebrates everything that makes SF special."
Located in the SoMa/Yerba Buena District of San Francisco, How Weird attracts many of the Bay Area's most innovative technologists and internet pioneers, as well as lovers of art and culture. How Weird welcomes all ages, and is wheelchair accessible. Only service dogs can enter the Faire. Glass bottles and weapons are not allowed, and bags may be searched when entering. For more information please visit: https://howweird.org/f-a-q/ 
There will be four entrances to the faire, located at Howard and 1st Streets, Howard and New Montgomery Streets, Folsom and 2nd Streets, and Mission and 2nd Street. We strongly encourage patrons to take BART or other public transportation to the Faire, which is a short walk from Market Street and the Montgomery BART station, and next to the Transbay Terminal. The Faire is also a short walk from the Caltrain Station, and many MUNI lines.
How Weird Street Faire is the annual benefit for the educational nonprofit, World Peace Through Technology (https://wptt.org/). WPTT's primary education project is the Immersive Learning Center (ILC), which provides STEAM educational opportunities to one of the least-served communities in California for free, six days a week. How Weird also supports other nonprofits and local charities. In the past year, donations have gone to the Haight Ashbury Food Project, Art of Peace Project, United Playaz, ARC San Francisco, ARC Solano, and Sunset Youth Services.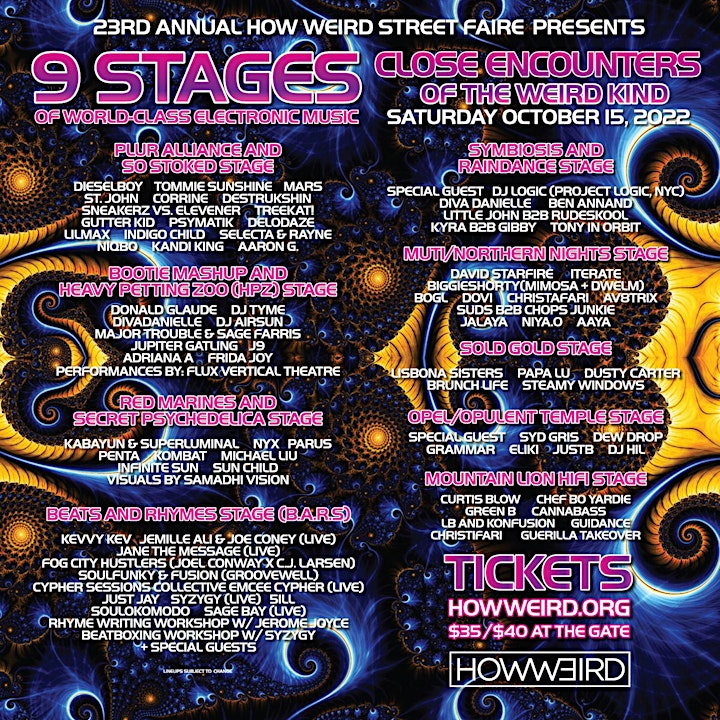 ---